The first Data Spaces Symposium – the largest event on data spaces, hosted by the Center of Excellence for Data Sharing and Cloud (TNO), International Data Spaces Association (IDSA), the Basic Data Infrastructure network and the Data Spaces Support Centre, boosted by the Data Spaces Business Alliance, brought around 700 international participants on the one place (Hague, the Netherlands) to share ideas, challenges and latest trends on the Data Spaces topic in the various industries.
Enershare became a significant part of the domain lounge session with five parallel tracks, bringing to insights from various data space EU initiatives and use cases across different sectors.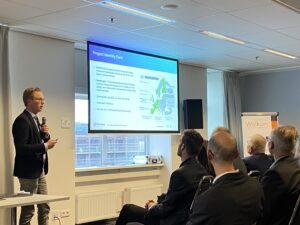 Center of Excellence for Data Sharing and Cloud (TNO) with the support of the other project partners such as FIWARE Foundation, Fraunhofer-Gesellschaft, IDSA, presented Enershare at the pitching session dedicated to the "Manufacturing and Energy" sector.
Participants from around the world could meet the project and its experts as well as learn more about following project's aspects:
Enershare goal is to develop and demonstrate a European Common Energy Data Space which will deploy an 'intra-energy' Data Space, aimed to design and demonstrate an "intra-electricity" and "across energy sector" trusted data exchange; and 'cross-sector' interoperable trusted Energy Data Ecosystem aimed to design, operationalise, and harmonise at EU level the beyond energy and cross-sector technology enablers for trusted, secure, sovereignty preserving data exchange.
Enershare is an Innovation Action project working on higher levels of Technology Readiness Level (TRL), that applies the developed concepts of data spaces towards an open dynamic data ecosystem.
The Enershare framework will be implemented, demonstrated and validated in seven real-life pilots and eleven use cases across seven countries, such as Portugal, Spain, Italy, Greece, Slovenia, Finland and Latvia.
For more information about the project visit the website: https://enershare.eu/